Welcome To Serious About Six Figures
Welcome

Please watch the video below for a quick 'personal welcome' and explanation for how to get the very most from this exclusive program.
Congratulations!

From today, you can ask me ANY info publishing question … whenever and as often as you like ... because you're now a very special member of our private online group.  Just head to the dedicated help desk and raise a support ticket whenever you have a question, and we will get back to you as soon as we can.

Outlined below is your 'fast-track video guide' to creating your very own $100k+ per year information publishing business.

I have laid everything out for you using a simple 4-step process, which includes things you can do right away!
| | | |
| --- | --- | --- |
| | Step 1 - Watch These 4 Quick Onboarding Videos | |
| | | |
| --- | --- | --- |
| | Step 2 - Begin Your Serious About Six Figures Training | |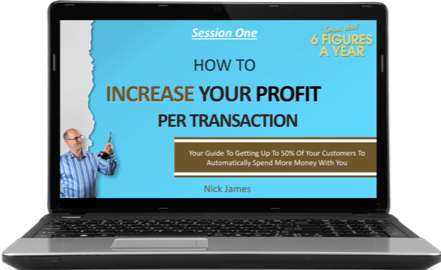 Once (and only once!) you've watched the four onboarding videos (above) will it be time to start going through your new 'Serious About Six Figures' training.
The first one is available to you right now. How To Create Your Own Signature Product Out Of Thin Air In 72 Hours Or Less...
A new video coaching session will be released to you every 30 15 days.
Your goal should be to completely understand and implement what you've learnt in each session BEFORE the next training module is released.
You will also periodically hear from me by email to find out how you're getting along ... and to ensure you're getting the most out of each training module 🙂
Remember, it took me years to acquire this knowledge and today I'm handing it to you on a plate in under an hour each month fortnight.
So there's a lot to take in. But don't worry, the beauty of these training modules is that you can go through them as many times as you want ... at study at your own pace. You're in complete control.
| | | |
| --- | --- | --- |
| | Step 3 - Your Additional Deep Dive Training Sessions | |
You have not yet upgraded your membership to access these optional additional videos. Click the banner below if you'd like to claim your second chance to add these extra training sessions to your membership.
| | | |
| --- | --- | --- |
| | Step 4 - Get Ready For Your Done With You Project | |
Watch the video below for exciting news of the new 'Done With You' project.
Kate and I are also going to 'match you' and get stuck in with creating not just one... but TWO new information products over the next couple of weeks... and when they're 'done' we going to hand them over to you with our compliments... complete with the full Private Label Rights. Watch now for full details!
For the next few days you can download the last three months issues of our Internet Marketing Newsletter and listen to the last three Podcast Interviews we've hosted with other highly successful online marketers.
We do offer the 'Private Label Rights' to both the newsletters and the podcast interviews. If you're interested in learning more about obtaining the PLR for these newsletters and interviews click here now.
| | | |
| --- | --- | --- |
| | Finally - Remember To Raise A Support Tickets Often | |
To ask a question, simply click on the icon below to be taken directly to the support desk. You will find this icon in the footer of every page, so help and support will always be just 1-click away.