Welcome To Serious About Six Figures
Congratulations!

From today, you can ask me ANY info publishing question … whenever and as often as you like... because you're now a very special member of our private online group for 'Six Figure A Year In Info Publishing' book readers.

Outlined below is your 'fast-track guide' to creating your very own $100k+ per year information publishing business.

I have laid everything out for you using a simple 4-step process, which includes things you can do right away!

And remember, there is also a dedicated support desk for you to use to reach out to me directly whenever you get stuck or have a question.
| | | |
| --- | --- | --- |
| | Step 1 - Put On Your (Virtual) Isolator Helmet | |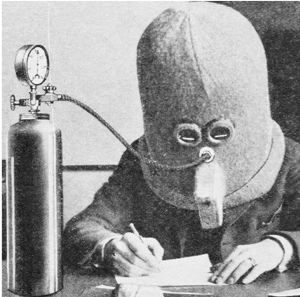 Let me give you a huge tip right from the outset... if you 'isolate yourself' from every other source of advice out there and you completely immerse yourself in this programme, you will avoid hundreds of distractions that exist and could knock you off course.
Listen, I promise that you will find EVERYTHING you need to make 6 figures as an info publisher within the pages of my new book 'Six Figures A Year In Info Publishing' and this Serious About Six Figures coaching programme.
Your number one enemy right now is DISTRACTION – cut distraction out of your life for the next 4 months (longer if you can), and let's see just how much you can achieve when you get 100% focused.
Make yourself a promise... and stick to it.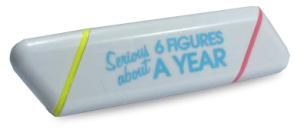 I've even recorded a brand new handy video that shows you how a simple Double Highlighter Pen like this can help you to not only avoid un-nessessary distractions, but also how you can quickly become a much better copywriter at the same time.
The video is only 4m and 45 seconds long, but it's packed with useful tips... and it could certainly help accelerate your success. Watching it now is highly recommended.
Click here to watch the video now.
| | | |
| --- | --- | --- |
| | Step 2 - Read (or Re-Read) The Book | |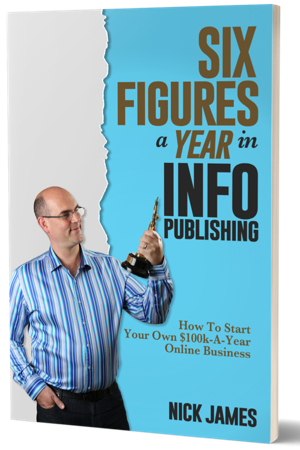 The 'Serious About Six Figures' training modules assume that you have already read the book. If you have not read the book yet... (or recently)... it's highly recommended.
Reading the book first will prepare you for the rest of your training. So, PLEASE READ THE BOOK BEFORE watching the first 'Serious About Six Figures' module or the bonuses. 🙂
If you've only just requested a copy of the book, just sit tight - it will be with you in the next few days.
Finally, if you have lost your book... or you still need to request a free copy click here now. (opens a new window). $6.95 required for S&H.
| | | |
| --- | --- | --- |
| | Your Bonus Video Training Sessions | |
Each bonus video module focuses on one of The 4 Key Areas Of Success you were introduced to in the book.
Increasing Your Market Reach
Increasing Your Conversion Rate
Increasing Your Repeat Purchases
Increasing Your Profit
These 'strategic deep dive' videos explain practically how to put each of the four success principles into practice in your new Info Publishing business.
As previously explained, my original intention was to only make these four video training modules available to private consulting clients… And while I regularly charge $1,250 per hour for phone / Skype consults, in order to provide to you with the BEST OPPORTUNITY EVER … I've decided to include them for free within the group. Enjoy 🙂
There were also the 'original four videos' created for Serious About Fix Figures A Year course... Before I decided - based on customer feedback; to 'extend' the training into a full 12+ Month plus system training.
| | | |
| --- | --- | --- |
| | Step 3 - Begin Your Serious About Six Figures Training | |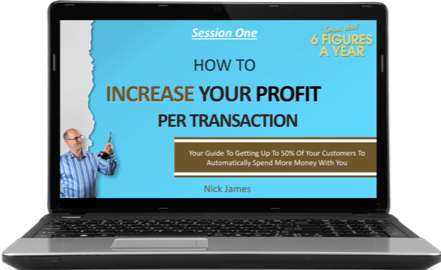 Once (and only once!) you've read Six Figures A Year In Info Publishing, and watched the original four videos (above) will it be time to start going through your new 'Serious About Six Figures' training.
The first one is available to you right now. How To Create Your Own Signature Product Out Of Thin Air In 72 Hours Or Less...
A new video coaching session will be released to you every 30 15 days.
Your goal should be to completely understand and implement what you've learnt in each session BEFORE the next training module is released.
Remember, it took me years to acquire this knowledge and today I'm handing it to you on a plate in under an hour each month fortnight. So there's a lot to take in. But don't worry, the beauty of these training modules is that you can go through them as many times as you want.
To ask a question, simply click on the icon below to be taken directly to the support desk. You will find this icon in the footer of every page, so help and support will always be just 1-click away.
| | | |
| --- | --- | --- |
| | Step 4 - Your Dedicated Help Desk | |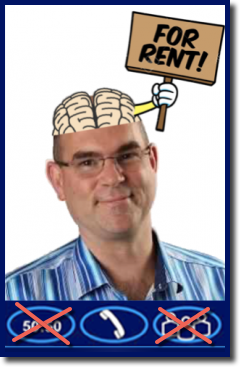 As you read through the 'Six Figures A Year' book and go through  the 'Serious About Six Figures' training modules, you will from time to time have questions you would like to have answered... and that's where the dedicated support desk comes in.
Think of it in exactly the same way as the the 'Phone A Friend' or 'Ask The Host' lifelines as featured in the hit 'Who Wants To Be A Millionaire' TV quiz show...
...Except as a member of this special group... you get unlimited lifelines to help you on your way to reaching your goal!
To ask a question, simply click on the icon below to be taken directly to the support desk. You will find this icon in the footer of every page, so help and support will always be just 1-click away.